OUR "SOMEONE SENT YOU A BIG HUG" GIFT CARD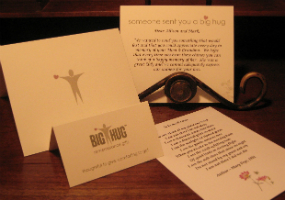 Everyone loves our "someone sent you a big hug" gift card!
FOR CHIMES SENT DIRECTLY TO GIFT RECIPIENTS
If you are having us send your chimes directly to a gift recipient, please make sure your SHIP TO ADDRESS is correct, and provide us with your gift card message in COMMENTS at checkout. Our special gift card, and a small matching Big Hug contact card are the only things to accompany your gift! We never include an invoice, or other literature when shipping our chimes to gift recipients. If your wind chime is being personalized, you'll also receive a digital image (so you can see how it turned out too!), along with your USPS or UPS tracking number, as soon as it ships.
FOR CHIMES SENT TO YOU
If you are having your chimes sent directly to you, but would still like us to fill out and enclose one of our gift cards please provide your gift message in COMMENTS at checkout. Only packages that ship directly to YOU (the buyer) will also include a packing slip, and occasionally literature about Big Hug. You will receive your USPS or UPS tracking number, as soon as your chimes ship.
ORDER CONFIRMATION
Moments after your order is confirmed, an automated copy of your order/receipt is sent to the email address you provide. Especially if you provide a COMPANY email address, be sure to also check your SPAM email file in the event it was filtered from your inbox.

Copyright© 2010 BigHugLLC.com
Site Design & Production
by Curious Light
Parse Time: 0.116 - Number of Queries: 37 - Query Time: 0.019776004455567